Afternoon Course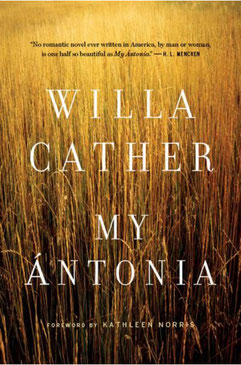 MY ÁNTONIA (publ. 1918)
Willa Cather

Set in rural Nebraska, MY ÁNTONIA is both the story of an enduring friendship and a brilliant portrayal of the lives of rural pioneers in the late-nineteenth century. Jim Burden, an orphaned boy from Virginia come to live with his grandparents in Nebraska, becomes friends with Ántonia and her family, immigrants from Bohemia, who must endure hardship and loss while trying to establish a new home in America. But Ántonia is never broken by adversity, nor are her strength and love of life. Her childhood friend Jim, even as he leaves home to study and pursue his career, never forgets Ántonia or his childhood home in the prairie. H.L.Mencken: No romatic novel ever written in America, by man or woman, is one half so beautiful as MY ÁNTONIA.
Dates:    Tuesdays 6.00 - 7.30 p.m
2021
from September 28 to December 14
2022
from January 4 to April 26
Copies of the novel along with a glossary of difficult words will be handed out to participants on the first evening of the course.

Level of the course: Advanced

(Go to > Registration)