Free Taster Course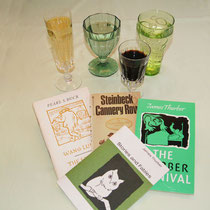 Drop in at Irene's Speakeasy and enjoy a 90 minute taster course. Read and discuss a brilliant short story, and improve your English without even noticing it.
The text of the short story and drinks will be provided. It's all free. There will be time and opportunity for asking questions and enquiring about the Speakeasy Courses.
Next Taster Course:
There will be no special Taster Course this year, since there are only a very few places left in the courses. However, you are most welcome to join one of the courses any time, free of charge, to get a taste of what they are like.

Details on this website.
Please call 044 767 09 87 to register for a free course lesson.

Would you like a taste right now?
Read this VERY SHORT Story.
If you don't get the point, come to a Course and find out!
If you can understand and enjoy this, come to a Course to read longer and more rewarding stories.
ONE TRAIN OF THOUGHT
Every weekday morning, for several months, she'd smiled coyly at him from the UP platform across the rails.
What madness had possessed him to be on "her" platform this morning?
She was nowhere to be seen. He'd been incredibly romantic and stupid.
Then he glanced across at the DOWN platform!
(Norman C. Locock, Minisagas, 1999)